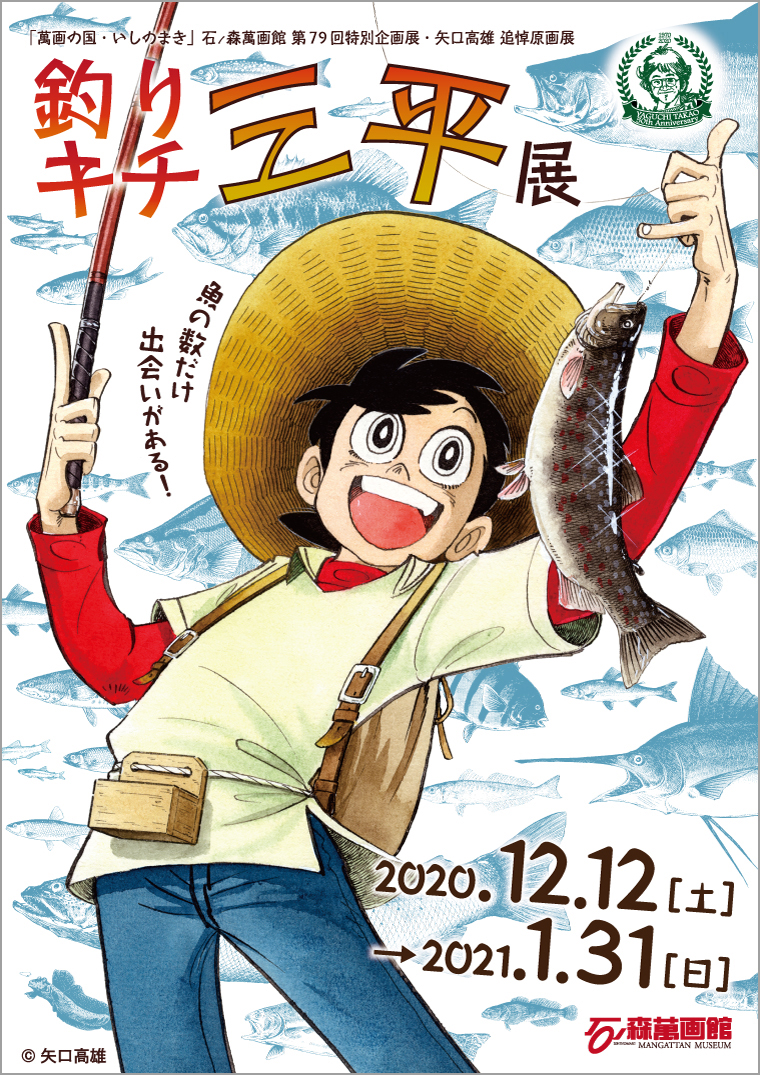 釣りキチ三平展 
■Request to customer about Covid-19
※Event contents may be changed depending on the extended situation of infectious disease. Thank you for your understanding beforehand.
Session: From Saturday, December 12, 2020 to Sunday, January 31, 2021
Time: 9:00-17:00 ※We close at 15:00 only on Thursday, December 31 ※Entrance is venue until 30 minutes before closing time:
Ishinomori Manga Museum the second floor plan exhibition room closed day:
Tuesday, December 15, Tuesday, December 22, Tuesday, January 12, Tuesday, January 19, 1/26 Tuesday viewing charges:
840 yen for adults/junior and senior high school students 520 yen/primary schoolchild 210 yen/non-school children for free (we include permanent exhibition viewing charges)
Sponsorship: Ishinomori Manga Museum cooperation: Yaguchi production, Katsumi Tatsuzawa, Yokote-shi Masuda comics art foundation
The painting 50th anniversary was reached Mr. Takao Yaguchi of director (five years from 2003 to 2008) this year for the Ishinomori Manga Museum second generation. This exhibition was thing which we planned in commemoration of this, but Mr. Takao Yaguchi passed away on November 20. In mourning your loss, we decided to hold as mourning exhibition in a hurry.
At this exhibition, Mihira of main character will introduce mainly on fantastic huge fish and unknown monstrous fish and the original picture of cameo of fierce battle that we developed and the beautiful color original picture filled with brightness of life. In story of bond with beauty, strictness, preciousness of life and person and people in nature drawn through fishing, living important message to us is included in the modern society a lot.
Please see the work world of monumental achievement "Tsurikichi Sampei" of naturalism fishing comics created with prominent image power by all means.
©矢口高雄